FASHION & CLOTHING
Spending Trends in India
Around half of the Indians (roughly 68 crores of people) spend ₹700 to ₹3,500 on ethnic clothing each month – Source. According to The Knot (Source), the average cost of a bridesmaid dress is $140 (US Dollars), that is around ₹10,000 (Indian Rupees). Sarees at Myntra.com ranges from ₹370 to ₹100,000. So, what's up with the huge price range? Let's be real.
How much should you pay for your bridesmaid saree? Before we answer, it's important to understand this: what are the key elements that are crucial in buying your bridesmaid saree and what are there to rip you off? By knowing what to look for when bridesmaid saree shopping, you will get a lot more bang for your buck.
WHEN CHOOSING A BRIDESMAID SAREE
What should you pay for?
Fabric type & quality
Blouse Stitching
Saree Style & Design
Bulk availability
WHEN BUYING A BRIDESMAID SAREE
What shouldn't you pay for?
Brand name
Social symbol or Peer pressure
Extravagant handiwork
Who likes to drape a saree that looks and feels cheap? On the flip side, who likes to overpay for occasional wear sarees? It is not too wise to spend ₹20,000 on a saree that comes in the same style and quality as one you can get for ₹2,500.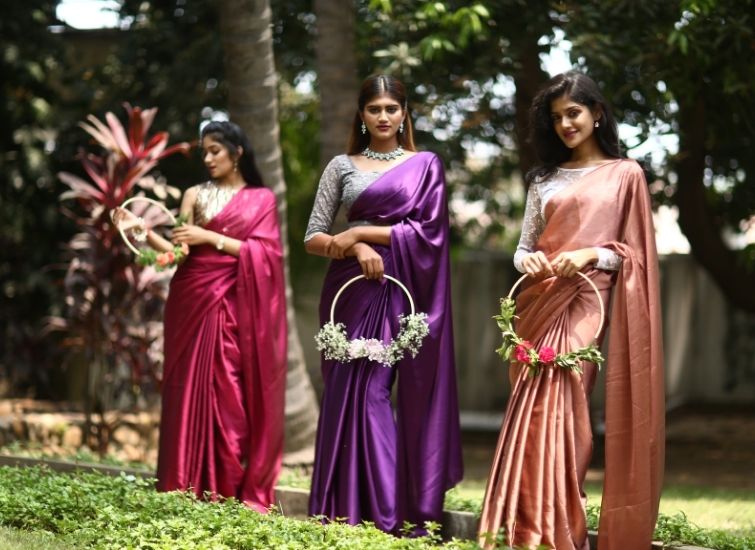 A reasonable price range is ₹1,500 to ₹5,000. At Drapemoda LLP, we have discovered the perfect balance of high quality fabric, elegant colors & styles, bulk orders processing and exceptional customer service. So, why is this the optimal price range? If you pay less, you'll see a drastic decline in the quality of your saree fabric and in your shopping experience. Pay more, and you'll merely be buying a saree for the brand name. (Truth factor : No one at the wedding will see the designer label on your saree)